Good Morning Mountain Challenge
5 Peaks of the Compass
Friends of the charity: Steve Boyd, Gordon Main, Steve Thompson and Ross Thomson came up with the challenge of bagging five of Scotland's highest peaks on the compass: the most northern, southern, eastern, western and central mountains of Scotland within 36 hours.
Their route: a midnight start at Ben Hope in Sutherland, down to central Schielallion near Aberfeldy, swung eastwards to Mount Keene near Brechin, then crossed the country to Ben Lomond in the west. The final challenge loomed over the sea to Skye, and a climb of Sgurr na Banachdich.
"Five highest mountains and 620 miles in 34 hours, 50 minutes. I've seen how the service helps people and we couldn't think of a better charity to help."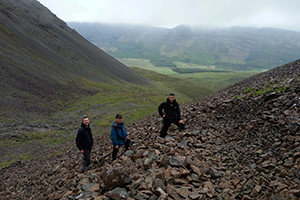 Sgurr na Banachdich of the Cuillins on Skye, the most westerly munro.